Dried fruits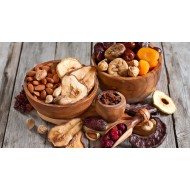 Dried fruits contain more biologically active substances, compared with fresh fruit. In fact, it is a concentrate, which contain calcium, magnesium, iron and other valuable substances.
Dried fruits have a positive effect on the bowels, and all the gastro-intestinal tract, helps to eliminate toxins and heavy metals. At the expense of potassium strengthens the heart muscle. Magnesium helps to organize the work of the nervous and cardiovascular system, it is very useful for women's health. It is also very useful to eat dried fruits mixed with nuts and honey for constipation, hypertension, for normalization of the thyroid gland excretion of parasites and cancer prevention.
Use dried fruit for weight loss is also invaluable. They contain a lot of glucose, fructose, and hexose, fiber and very little sugar. Therefore, many nutritionists recommend losing weight to replace their desserts.
---
Showing 1 to 11 of 11 (1 Pages)