Nuts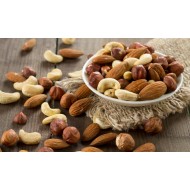 Nuts - a storehouse of vitamins and minerals. The nut part has the B vitamins, vitamin A, E, P, and other minerals: phosphorus, iron, magnesium, potassium, sodium, etc.
Almost all nuts contain 60-70% fat, but as you know, as part of the fat is not "harmful" cholesterol, but the fatty acids abound.
Kernel walnut - a perfect protein. A protein which comprises a nut, can completely replace the "animal" proteins.
Another compelling argument in favor of nuts, they can be eaten, even for people who are overweight. Despite the fact that, for example, walnuts more calories than chocolate, but a low carbohydrate content makes them practically "harmless" for our figures.
---
Showing 1 to 10 of 10 (1 Pages)